Living in Japan can become costly. Depending on where you are from, Japan might be very expensive compared to the country where you were paying pennies for a dish outside on the streets now you have to pay some solid money on perhaps the same dish. All the students coming to APU had a budget check, so coming to APU it means you are able to survive in Beppu, but earning some extra money will be helpful and it will always come in handy. This blog post will look into the popular part-time jobs in Beppu.
Last month a blog post which I wrote got published on behalf of APU. Here I discussed what one can expect from APU regarding the academic life. If you haven't read it: What can I expect from Graduate Courses as a Master's Student? When I posted this on my Facebook I got a lot of interesting reactions. I am quite critical on the academic level of APU and I am quite vocal about it, but this post was quite mild and I wasn't "bashing" APU for multiple reasons: 1) most obviously I cannot bash about APU when writing and post on APU's website, 2) I do not think it is fair for those who willing to come to APU to not give them any information on the academic life, and 3) for many going from their home country to a Japanese university is an upgrade in life.
As this post came out I got called out in many funny ways by my peers and even two professors as a sell-out and they were wondering how much it would cost them if I would write a great blog post about them. They give me a good laugh as I can see why they would say it. However, I never did it for the money, as I get paid in peanuts (unlike those professors ;)). I wrote that blog on behalf of APU for the same reason I write my personal blogs namely to help prospective students. Heck, I get no pay on this one, but I still love to write about life here in the south of Japan. Even if I would write terrible things about APU every month, there will still new students be coming one way or another. And like I said in Ritsumeikan Asia Pacific University Student Life APU has some negative points, but I do not hate the university. There is much the university should improve on.
It took me quite a while to think about a topic for this month's blog. So far I covered quite a lot of interesting topics. But recently the topic money crossed my path again as a few friends have given me the feeling that they do not have the financial freedom to travel or do whatever they would love to do in Japan. As such, I thought it would be a great idea to cover a few part-time jobs that are popular among the students at APU, and some tips on how to find these jobs.
Suginoi Hotel
Right off the bat, Suginoi Hotel. If you have just arrived at AP House 4 and you have the city side view without a doubt you will see Suginoi Hotel. Or perhaps you have heard of Suginoi Hotel. Suginoi Hotel is THE biggest hotel in Beppu and it is located on the mountain at Kankaiji area. At night you will see the big Suginoi name as it emits light in the night.
Suginoi Hotel is extremely huge. This hotel has 4 buildings and there are a lot of people who visit the hotel. As such, there is ALWAYS work at Suginoi Hotel. I am not even exaggerating. The reason why I put this first on my blog post is that regardless whether you speak Japanese or not, they will hire you to work at Suginoi to clean the rooms, change the bed sheets, and etc. There is no real job interview, all you need to do is tell them when you can work. If you are not able to work that day, even though you said you would, no problem it is cancelled without to give a valid reason.
If you live far away from the hotel, don't worry. Suginoi Hotel will send a bus driver to pick you up and drop you off, free of charge. There are several jobs you could do at Suginoi Hotel for example; 1) cleaning rooms, 2) handing out towels at the Aqua Garden, 3) working at Aqua Garden as a guard to keep an eye on the swimmers, 4) working at the kitchen, 5) working at the bowling hall, and more. You could Google Translate the page and it will give you a good idea of the jobs they have: Suginoi Hotel part-time jobs page. The wages range from around ¥780 to ¥1000 per hour. For cleaning rooms, the Japanese language is not required, some other jobs basic Japanese is required.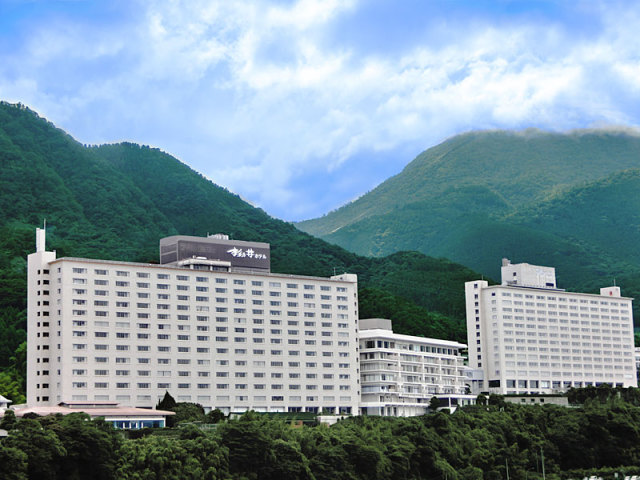 At the APU campus
Oh boy, this one might bite me in the butt (again). But truth to be told APU has a lot of part-time jobs on campus and a lot of students do their 'arubaito' アルバイト (or simply baito バイト which comes from the Dutch and German word arbeid/Arbeit which literally means work). At the campus there are several jobs you could do:
Coop; Coop (pronounced as Co-op) is the only store that is located on the campus (hooray to monopolies). The jobs that are available at the shop are operating the cash register/filling the shelves, and help to translate from Japanese into English. The staff are Japanese and are not fluent in the English language. At Coop, you can rent a car, book a plane ticket or ferry ticket, and more and the staff requires someone who could help them with translating into English as not all students speak Japanese. Hourly wage: ¥755
Cafeteria; at the cafeteria, both the big cafeteria and the Asia Pacific Cafe, you put the food on the plates and in bowls. The students will order some food and you give them the dish. Furthermore, some cleaning and operating the cash register is part of the job too. Mostly this part-time job is after the main staff has gone home. Hourly wage: ¥750.
Proctor; as a master student you can proctor the exams of the undergraduates. This means when they have their midterms or final exams you will be coordinating a room filled with students. You will show them how to sit in the exam room, write the info about the exam on the blackboard, and most importantly you are roaming that same room during the exam. You try to prevent students from cheating. There are a lot of cheaters, so your task is to not catch them cheating but preventing them from doing it. If you see someone is trying to cheat just make them sit somewhere else, mostly the cheaters are sitting in the back, make them sit all the way in the front. Hourly wage: ¥1000.
TA; TA stands for Teaching Assistant. As a Teaching Assistant, as the name suggests, you assist the professor in his/her class. Assisting the teacher, the most common things are to take the attendance from students, manage Manaba (a website where the study materials are), keeping the students quiet in class, hand the microphone to the students if they want to answer a question or ask something to the professor. But mostly you are the one where the undergraduates go to ask their questions. "When is the exam?", "what do we need to study?", "will there be a midterm exam?" these types of questions. Basically, you are the forefront for questions. If the professor is teaching an interesting course you get to learn more about the topic without the risks (getting a bad grade or not obtaining the credits).
TIP: When applying for a TA job the best way is to get acquainted with a professor and ask them if they would like to have you as their TA. This way the professor will apply to have a TA and will give your name to the Academic Office. This way you will definitely be their TA. If you do it the regular way, you apply for a TA job and you will never receive an e-mail if you did not get the TA job. Meaning you are kept hanging without a TA job. A TA job would mostly be one quarter (two months). You could be a TA for two professors in one quarter. This is what I did this quarter. This is only possible if you have the time. As I finished all my courses I was able to be TA for two professors. The hourly wage: ¥1000. If you are TA for two professors, and you do some extra stuff outside the class (such as checking the attendance sheets) your salary for that month could be up to ¥50.000 max.
There are some sporadic jobs now and again at APU, and they can all be found here (you can only access it with an APU student account): On-Campus Part-Time Jobs
Konbini
Konbini comes from the English word convenience, but as it is difficult to pronounce the Japanese made it shorter and made it into the word konbini as in convenience store. To work here, you are required to have at least N3/N2 level of Japanese as you are in direct contact with Japanese customers. Working at the konbini can be stressful and it is hard work. However, there is always work available for students. The work contains operating the cash register, filling the shelves, cleaning, and more. This sounds okay at first glance, but let me tell you that a konbini ALWAYS has customers on the floor. In Japan, konbinis are to Japanese as are supermarkets to us. Where we would go to the store for orange juice the Japanese would quickly buy it at the konbini.
Certainly, there are plenty of supermarkets in Japan and they are much cheaper than the konbini, but the supermarkets overall close around 8 to 9 pm. Konbini is 24/7, it never closes. And as the Japanese work late hours, a konbini is a good place to buy the required stuff to survive the day. As such, working at the konbini will never bore you. There is always a konbini close to your house and you could work any time of the day. Hourly wage ~¥780.
Finding a baito
To find a part-time job the best way is as always networking. Nothing beats networking. Make plenty of friends and at least one of them knows a guy who knows a guy where there is a job available (for all Breaking Bad fans out there, please do not cook meth, you will get deported). Other than that, there is a decent way of finding a baito in Beppu by using Facebook groups. Maybe a good way to start this part is to let you know that Facebook is, unfortunately, very important in Asia. Everything is being communicated through either FB or Messenger. If you are one of the people that does not have FB, I respect you and look up to you, however, it will make your life quite difficult.
That said, there are several Facebook groups where jobs are posted which you should keep an eye on. You can enter these groups only if you are an APU student. By far the #1 Facebook group in Beppu is called Minishare. Minishare is, in a nutshell, Craig's list. This is THE place where students sell and buy all their second-hand shit. Everyone is selling or buying something here. It is very big and very popular. But Minishare is not only used for buying and selling stuff, but it is also used to look for people to do a certain job. Though it is not its main component to find people for a job, but occasionally I would see some jobs posted there.
The main place to find a job is called APU Baito. Here jobs are posted on the page by other APU students. I do have to say that the traffic on this page is not as much as Minishare, I would recommend you to subscribe to both pages. There is another FB group which is basically the same as Minishare, to be honest, I do not see the real point of its existence, but nonetheless, jobs are posted in here as well. This page is called AP-Share.
Like I said, these are just the popular ones that I could think of. There are many restaurants, izakayas, clothing stores, and whatnot that are looking for APU students. This is something you need to seek for yourself. But I do need to warn you about a couple of things:
You will need a student working visa. This visa can easily be acquired when you have arrived in Japan. APU's student office will fix that for you within 2 weeks.

When you have your student working visa, you are only allowed to work 28 hours a week. This sounds sketchy when I say this, but if you still feel the need to work more than 28 hours, make sure that those extra hours are off the grid. If the authorities get a whiff of you working more than 28 hours on paper, you're going to have a bad time.

All the baitos that I mentioned above are all legal baitos. The ones we are not allowed to do are working in a Panchiko or Mahjong parlours (gambling halls), Hosts/Hostess which is a place where sad people go to have someone to talk to in a mildly sexual setting (no sex involved, basically blue balls bar), working at a bar, not as a cabaret, or washing dishes. The latter two….. uhmm…right……
I hope you find this guide helpful. If you have any questions or comments please share. Furthermore, if you have any topics that I should cover, please let me know. I am starting to run out of ideas :p.
And as always, thank you for reading my blog! I love the reactions :).
Masha'Allah